Importer of Artiteq state of the art Home picture hanging system and the original Gallery hanging systems for hanging of the  art on the wall. Makes hanging of picture art within seconds no fuss. 
We are the Importer gallery rails and gallery hooks +Cable drops of the Arti-teq gallery systems Integrating a flexible original flexible hanging systems gallery hooks  (gallery hanging system)into your home or galleries interior or office is easily and quickly done with the picture Click Rail (Gallery click rail). In three simple steps, the hanging gallery rail (Picture rail) is fastened to the wall, by hanging or sliding the picture rail wires into the gallery rail (Picture rail) with optional gallery rail Hooks (picture hooks) that come in different max weight configuration (4kg,7kg and our squeeze and release deluxe 15kg gallery  / Picture hooks) you create a flexible suspension of your decorations. The rail comes in white or brush sliver  aluminium  version of the picture Click Rail fits perfectly into modern interiors of homes , galleries or office spaces. The picture rail cable drops come with a easy twist and lock or release from the gallery rail , makes it easy to add or remove cable drops from the gallery rail. The cables come in different lengths (1,5m,2m,2,5m and 3m) steel or clear perlon cable drops giving the customer choice.
For the older option where wooden picture rails are installed, we have wide picture moulding hooks (brass , antique and white) we also provide cable drops in this application steel or clear looped so that it slides over the wide picture moulding hook that hooks onto the wooden picture rail installed on the wall. This is a great idea for very old buildings where drilling holes into the walls is not permitted using exciting infrastructure to adapt to a user friendly picture hanging solution.
Picture Hanging System:
The hanging rail (picture rail) is part of a total concept, the picture hanging systems which, in additional to the  gallery rails, consists of hanging wires and gallery hooks of different weight factors. All the Artiteq rails are made from high quality aluminium comes in anodised brush silver or white powder – coated. The picture rail / Gallery rails can be mounted against the wall (flush against the ceiling or just slightly below the ceiling) or to the ceiling itself depending on the rail. The galley rail is mounted to the wall using special clips that are attached to the wall with screws and wall plugs. There are picture rails that attached direct to the wall or ceiling using screws and wall plugs. Since it is neither possible to drill holes in some rooms it is possible to offer a solution in form of a hanging rail that can be glued in place.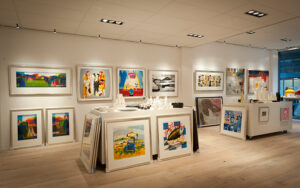 Pictures showing the installed picture / gallery hanging system
The New Picture Click Rail Easy To Install No Special Skills Needed Perfect for Hanging Art On The Wall
CLICK RAIL
Hanging and changing wall decoration without damaging the walls
The Click Rail is a flexible picture hanging system that you only have to mount to the wall once. Using the Click&Connect system, mounting the rail system is fast and easy. The Click Rail (8.5 mm x 25 mm) may be mounted flush against the ceiling and may also be repainted, for example in the same colour as the wall or ceiling. This helps the picture hanging system 'blend in' with the wall or ceiling, making it nearly invisible. The hanging rail's appearance makes it easy to integrate in any room or interior.
WALL DECORATIONS
The Click Rail is available in three different versions: white, white primer and aluminium. You always have flexibility in hanging posters, pictures or photo frames thanks to the hanging wires with hooks that you can click into any desired location on the rail system. Each picture hanging system offers the option of using different hanging wires, such as perlon, steel wire or rods. There are different picture hooks available depending on the weight of the art or photo frame you wish to hang on the wall.
Mounting the Click Rail is easy and can be done in just a few steps using the Click&Connect clips:
        Top Picture Rail Or Also Known As A Top Gallery Rail For Attaching To Ceilings
CORNICHE RAILS FOR ANY INTERIOR
There are many different styles of cornice rails, and this hanging rail can be installed behind every type. The Deco Rail is available in combination with a selection of three different types of cornices: Basic, Modern and Classic. For an overview of the hanging wires and picture hooks to be used in combination with Deco Rail, see Hanging wires and hooks.
Artiteq has developed a series of integrated picture hanging systems, which can be new-build or renovations. The rail is integrated while the ceilings are being installed. These systems offer huge advantages to end users, with a hanging system becoming available throughout the entire space. By selecting integrated hanging systems you set the standard for perfection. Combining picture hanging systems with recessed ceilings or plasterboard ceilings creates rooms with walls that can be designed flexibly and easily. And also for the long term, without damage to walls and without additional costs. This also results in considerable steps towards sustainable building management and cost savings.
           Top picture rail
Wall Hooks For Partitions
New : Twister On The Rod Easy To Add And Remove Gallery Rail Cable Drops, Don't Need A Ladder Makes It Easy To hanging Pictures On this Picture Hanging System.
Home and Gallery System Hanging Wires & Hooks 4kg ,7kg and 15kg Security Hooks Perfect for Galleries.
HANGING WIRES AND HOOKS
In addition to the many different hanging systems that Artiteq offers, there are (small) essential parts that are necessary to actually hang the painting on the chosen rail. There are various types of suspension wires and hooks to choose from, depending on your chosen rail and the weight of your painting or artwork.
PICTURE HOOKS
A wide variety of hooks
Artiteq offers a wide variety of hooks, developed to use in combination with hanging wires and picture hanging systems. Taking into account several criteria such as weight, ease-of-use, choice of material and security. The Artiteq range of hooks comprises products that can handle weights varying between 4 kg ,7kg,15kg and 20 kg per gallery hook. The size of a picture or wall decoration determines the weight . In practice, most wall decorations weigh less than 10kg.